Here at Painaway we produce a range of products for pain relief based on wearing Possum Fur directly against the skin. You will find full details about our principal product, the Painaway Possum Fur Pain Relief belt on the home page of this site, along with testimonials from some of our very happy users.
Other products which we produce, particularly for Arthritis sufferers and those with pain related issues include Knee Pads, Wrist Bands and Neck Bands.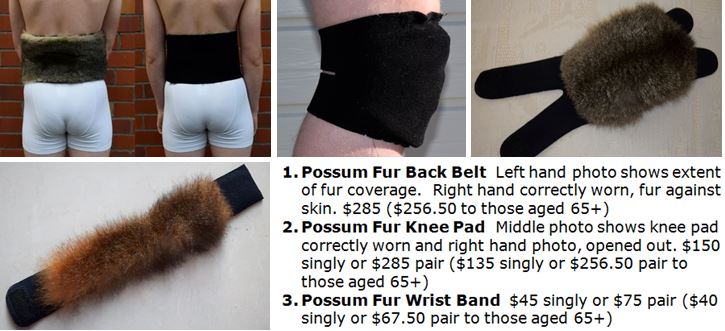 Because we are based in Whanganui and market our products direct to clients, rather than going through retail shops, it becomes hard for potential customers to view products before purchase.
Most of our customers are over the age of 65, with significant numbers in their 80s.  Getting around can be difficult especially if they have mobility problems through wrecked backs or arthritis in their joints.
In order to reach these potential clients we have therefore decided to work with a network of agents throughout New Zealand who can follow up on leads (provided by us) and at the same time reach out to people in their local community who may not be aware of our products.
Our Ideal Agent will:
Be an older person, possibly, but not necessarily, an existing client
Probably be retired and looking to supplement their income
Have an outgoing personality and enjoy talking to people
Be empathetic to those who suffer from chronic pain
Have a car in order to get around their local area
What we offer:
Leads which we generate through advertising so no 'cold' canvassing
Support in the form of marketing guidance and printed materials, including order forms and posters for noticeboards
10% discount on our products to anyone over the age of 65
Generous commission on all sales
Product samples to show prospects*
* Longer term we will probably offer exclusive agency agreements    covering set geographic areas for which a fee (not expensive) will be    payable.  However, for the first FIVE agents we appoint no fee will   be required.  We will however require a security bond (equivalent to       50% of the retail cost of the samples supplied to our agents. Should, at any stage you wish to cease being an agent then the bond will be refunded upon return of the samples.
Next Step
If the idea of becoming a part-time agent and earning an extra $100-$200+ week appeals to you and you think you have what it takes then simply pick up the phone and call Henry Newrick, Managing Director of Painaway NZ Ltd – day or night – on 027 471 2242.
The best time to reach him is between 10am – midnight any day, including weekends.
Home Page – www.Painaway.org.nz